Hi, I'm Graham
I work as a full-time software engineer for Sermo. I'm passionate about web technologies, love craft beer, and play a mean bagpipe.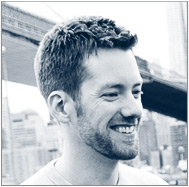 About me
Give me any project, and I'll give 110% effort every time in order to make things succeed. My greatest pleasure is seeing things work well and to the satisfaction of the stakeholders.
I brand myself as a full stack developer who loves writing OOP code all-day either back-end or front-end. I was also a graphic designer for a number of years, so I've got a firm grounding in UI.
Learning is a big part of my life, and I spend much of my spare time taking formal classes, or learning new technologies that'll help me rock out with the next big project.
Proudest Achievement
VIM...I swear by it now. Shortcuts have never felt so useful.
Fun Fact
Currently my wife and I call the great city of Boston home, but my favorite time of year is flying home to the Canadian prairies to make homemade sausage with my family every Xmas.
Where you can find me